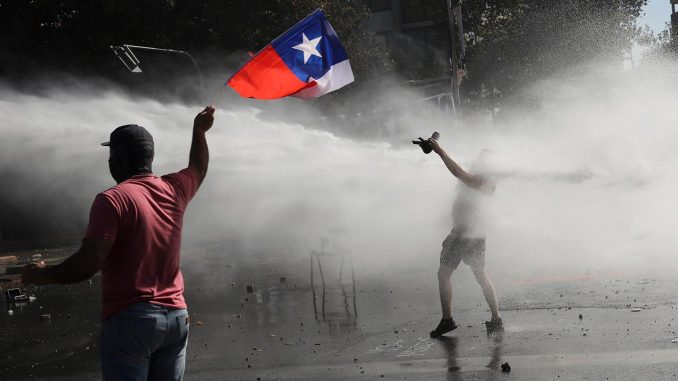 Sunday 24th of November 2019 from 3.45 pm till 5.15 pm in the downstairs meeting room of the Thistle Hall, on the corner of Cuba & Arthur Streets, Te Aro, Wellington. Please enter by the the grey door on Arthur Street marked Hall Entrance.
In recognition of the momentous events taking place in Chile we will be reading chapter five of the text by Marcus Taylor titled From Pinochet to the 'Third Way': Neoliberalism and social transformation in Chile.
Taylor shows how the tensions that arose from social inequality in Chile led to the emergence of a 'Third Way' neoliberalism in the post-dictatorship period. Taylor argues that this new development paradigm has failed. This is a result of the inability of 'Third Way' neoliberalism to transform social relationships and institutions.
The nature of this failure affects the direction of popular movements for social change in Latin America during a time of renewed social and political upheaval.
Required reading
This session will be convened by Mark Edward who has recently returned from Santiago where he witnessed many of the protests and clashes between demonstrators and the police.
Chapter 5 of: Taylor, M. (2006). From Pinochet to the 'Third Way': Neoliberalism and social transformation in Chile. London, UK: Pluto Press.
Question to consider
Questions for the next meeting of the Little Red Reading Group:
How did the Pinochet dictatorship ensure the continuation of neoliberal policies after the transition to democracy in Chile?
A left wing coalition won Chile's first post dictatorship elections. What were their options and why did they fail to oppose neoliberalism?
Here in New Zealand, we have a ruling coalition committed to 'Fiscal Responsibility'. What can we learn from the lessons of Chile's left wing coalition governments? What are the prospects for a mass movement against neoliberalism emerging here as it has in Chile recently?