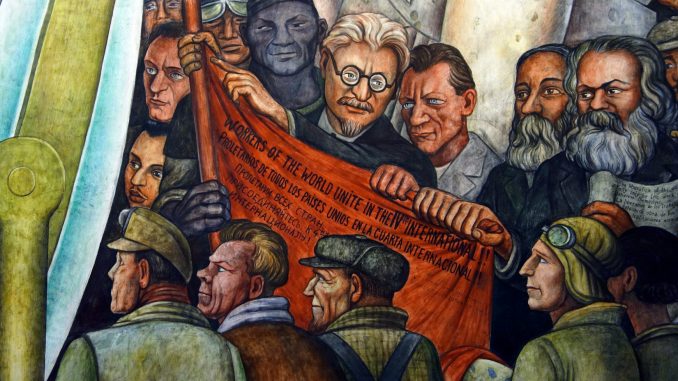 Nivedita Majumdar discusses the assertion that socialism is an inherently White and Western ideology that cannot address the oppression of minority ethnic groups in the West or analyse the issues for the Global South. Of course, if this assertion was true, it would have serious implications for the application of socialist ideas and concepts in the context of the settler colonial state of Aotearoa New Zealand.

Video talk
Required reading
Majumdar, N. (2016). Is socialism a Western concept? (pp 62-68) In Bhaksar, S. (Ed). The ABCs of Socialism. London: Verso.
Majumadar argues that, since the capitalist mode of production is a global phenomenon, its exploitation of the worldwide working class is also global and so socialist ideas have something to offer activists across the world.
The socialist ideal rests on the belief that working people all over the world suffer at the hands of capitalists and share a common interest in resisting exploitation. To call that a narrowly Western idea would be news to the more than 1,100 garment workers in Dhaka, Bangladesh, who were killed in April 2013 when the Rana Plaza factory building in which they were working collapsed on them. The building had been declared a safety hazard, but their employers forced them in under threat of dismissal. (p. 64)
Although the struggles of workers are strongly influenced by local community and cultural contexts, Majumadar points out that "Socialism is not Eurocentric because the logic of capital is universal — and so is resistance against it." (p. 66). In her video talk Majumdar takes her analysis further pointing to contemporary forms of antiracism emerging from the academy that "refuse to see capitalism as the primary driver of inequality, as a result it's an antiracism that does not speak to the needs and interests of the working class".
Questions to discuss
Does the fact that socialist ideas originated in Europe mean that they are not applicable in Aotearoa New Zealand?
In what ways can socialist ideas help to make sense of the history and development of modern Aotearoa New Zealand?
How could a socialist movement in Aotearoa align its aspirations for social change with the aspirations of Māori for constitutional transformation?
Additional reading
McNeill, D. (2015, July). Māori and Communism in the 1930s. International Socialist Organisation of Aotearoa New Zealand.
Potter, H. & Jackson, M. (2017). Constitutional transformation and the Matike Mai Project: A kōrero with Moana Jackson. Onehunga, New Zealand: Economic and Social Research Aotearoa.
Selfa, L. (2015). Is Marxism eurocentric? SocialistWorker.org.
Image credit: Steven Zucker – detail of Man Controller of the Universe, by Diego Rivera (1934) in the Palacio de Bellas Artes, Mexico City